Lunch with Santa Claus at LOL Kids Club!
December 23rd & 24th from 11 AM to 4 PM
❤️ Santa is coming to LOL Kids Club Las Vegas to have lunch with all the good little boys and girls. Our fabulous executive chef has created a special Christmas menu to bring on the heart-warming holiday season.❤️ Order your tickets online and get ready to see Santa. All the kiddos can take a moment to tell Santa what they want for Christmas while you take their photo. So, before you come to see Santa at LOL Kids Club Las Vegas, make sure your phones are charged.
LOL is making this holiday season a very special time for all our valued guests, as we welcome the new year with Santa and a delicious Christmas meal. ❤️
Lunch with Santa Claus Pricing
Buy your tickets online for the best savings!
OPTION 1 for 1 Kid and 1 Adult
– All Day Play Admission
– Full Lunch Menu
– 1 Kids Meal with Drink
– 1 Adult Meal
– 1 Soft Drink
OPTION 2 for 2 Kids and 2 Adults
– All Day Play Admission
– Full Lunch Menu
– 2 Kids Meal with Drinks
– 2 Adult Meals
– 2 Fountain Drinks
OPTION 3 for 3 Kids and 2 Adults
– All Day Play Admission
– Full Lunch Menu
– 3 Kids Meals with Drinks
– 2 Adult Meals
– 2 Fountain Drinks
OPTION 4 for 4 Kids and 2 Adults
– All Day Play Admission
– Full Lunch Menu
– 4 Kids Meals with Drinks
– 2 Adult Meals
– 2 Fountain Drinks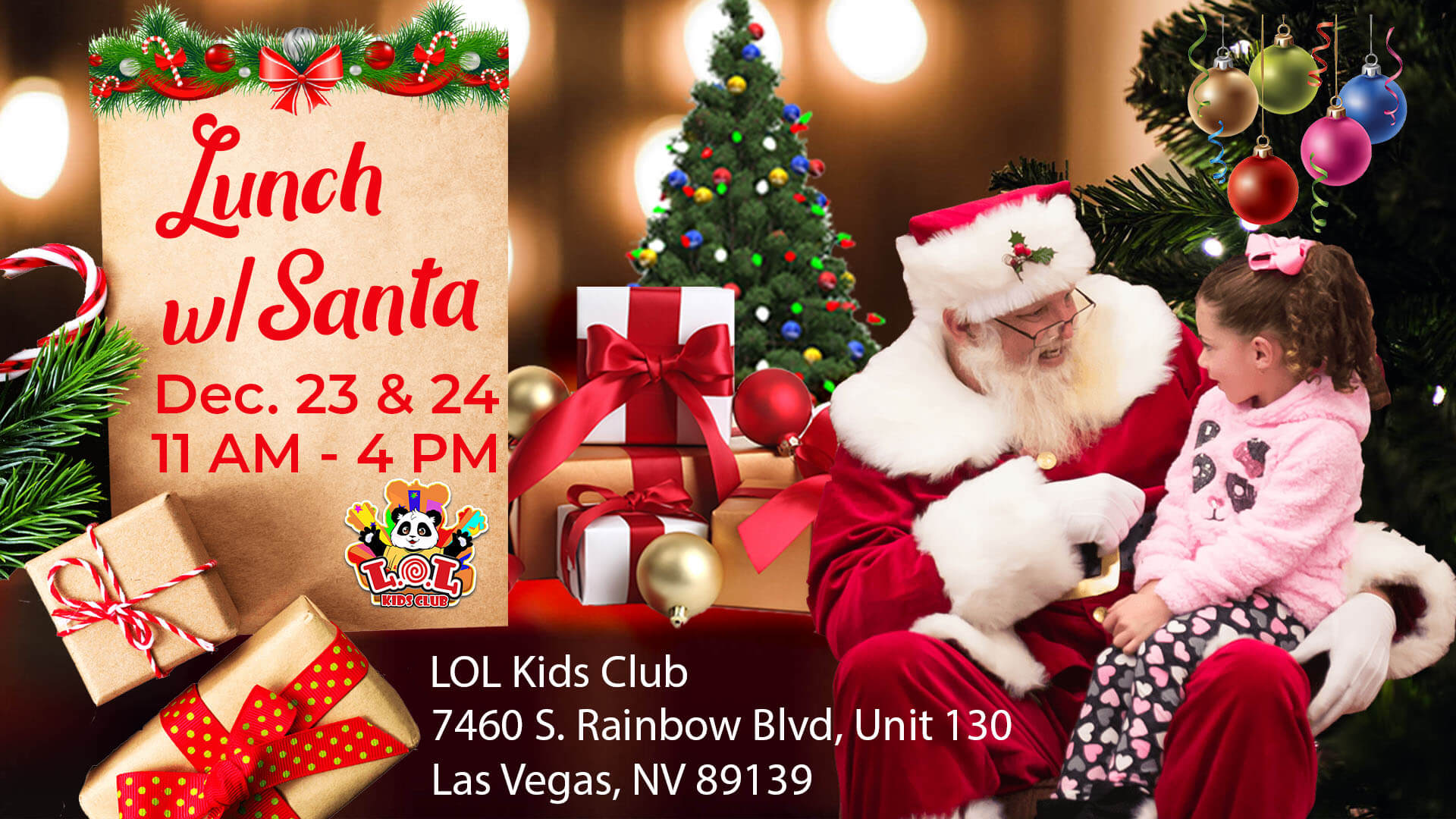 Santa's Menu
$9.99 Santas "All-Nighter" Burger
An 8 oz patty topped with cheesy hashbrowns, crispy bacon, fried ham topped with a sunny-side-up egg and Sriracha aioli
$6.29 "Blitzen's" Soup Bread Bowl
Creamy broccoli and cauliflower soup served in a warm sourdough bread bowl
$7.99 Bumble's "Yeti" Spaghetti
Spaghetti primavera with thinly sliced asparagus, zucchini, squash, mushrooms, onions, carrots, oven-roasted tomatoes, and shaved parmesan cheese
$8.98 Rudolph's "Sleigh-ders"
3 ea Chicken parmesan sliders
$8.98 "Vixen's" Veggie Wrap
Marinated portobello, grilled zucchini, carrot ribbons, fresh mozzarella, avocado, mixed lettuce, sliced tomato with a creamy Italian dressing
Santa's Menu for Kids
$6.99 Christmas Wrapped Mini Hot Dogs Kids Meal
Baked and served with fries or fruit, cookie, and kids drink
$6.99 "Comet's" Mini Corn Dogs Kids Meal
Mini corn dogs with choice of fries or grapes, cheese dip, sugar cookie, and kids drink