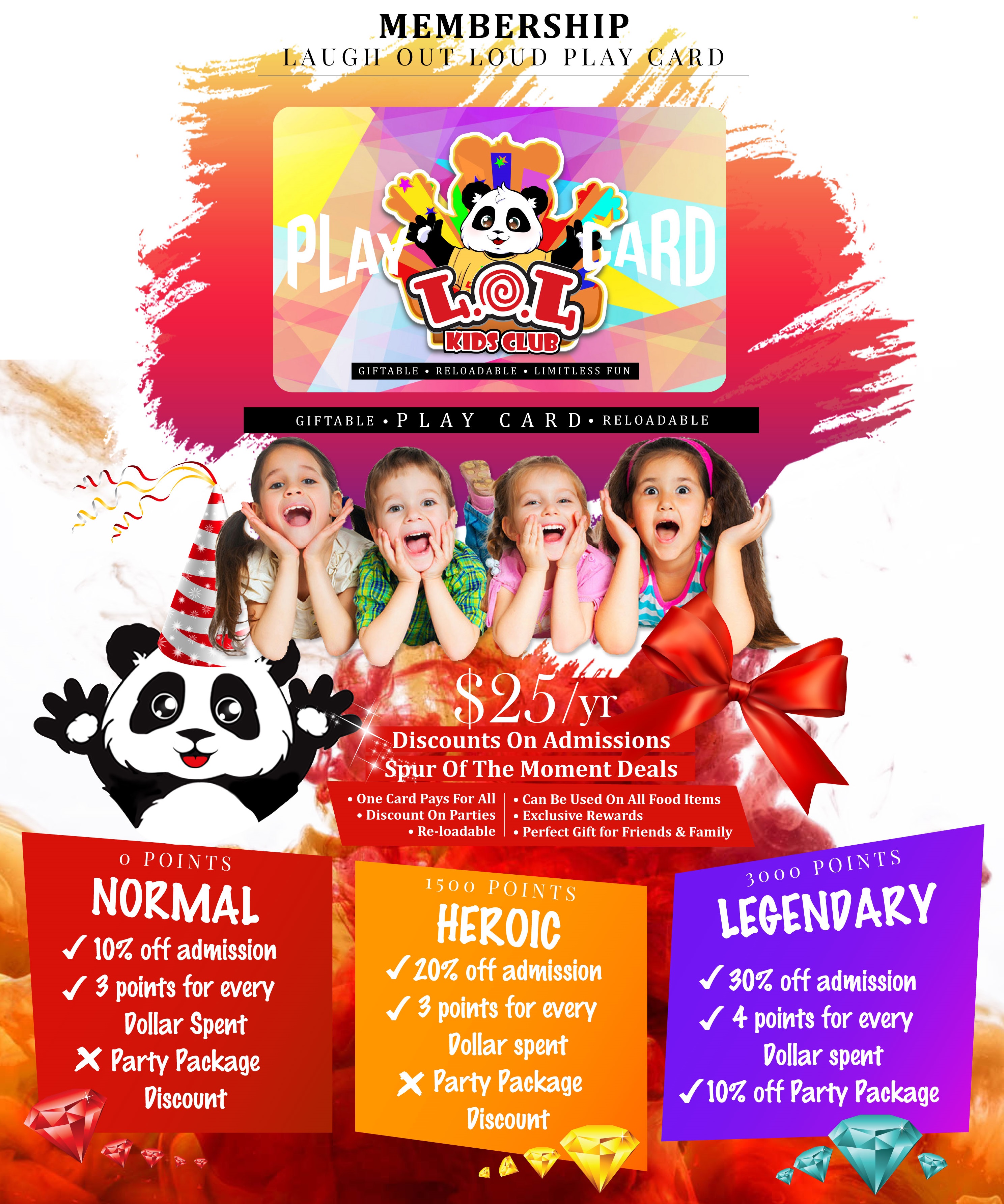 Join the fun and excitement exclusive to LOL Kids Club Membership! Our members get discounts on admission, food, party packages and surprise deals on cakes as well! We have a lot of unexpected gifts for our kids and community, as we value your family and your loved ones.
Membership Benefits
     Our members enjoy the following benefits:-
Seasonal Offers – 

Our members are eligible for seasonal offers and discounts.

Entry level (0 points)

receive 10% admission discount and gets 3 points for each dollar spent.

Heroic level (1500 pts)

receive 20% admission discount & gets 3 points for each dollar spent.

Legendary level (3000 pts)

receive 30% admission discount, 10% OFF Party package and gets 4 points for each dollar spent. Party package discount is only once per year and can't rollover.
How can I register for a membership and what I need to know about LOL Kids Club membership?
To become a member,sign up at Guest Service and receive your membership card.

To get membership card & to enroll to membership benefits, you only pay $25 per year.

Membership only applies to card holder. It cannot be transferred.

Membership cannot be combined with any other kind of promotions, discounts and or coupons.

Membership cards are limited to each location.

Upload funds into the membership card and use the card to pay for

ADMISSION, CAFE

and

PARTY PACKAGES

to receive points and membership discounts.

Each time you use your membership card, you accumulate points and when you reach to a certain amount of points you could move up to the next level.

The card holder could pay for admission for family members and their friends as long as the cardholder is present and if there is enough funds in the card.
I lost my membership card, can I get a replacement?
Yes, you can get a replacement card for only $2.00
Membership Terms and Conditions:-
Eligible for members 18 years and above and must be on a waiver. One card per family. Loyalty points may be used for listed rewards only, provided by LOL KIDS CLUB. Each card holder must have the minimum discount applied on their card for the discount to be applied. LOL KIDS CLUB is not responsible for any discrepancies with any member's card. In the case there is a discrepancy, it is up to the card holder to provide evidence for the discrepancy to be fixed. Card can only be loaded with increments of $5 only (card can NEVER be loaded for the exact value; unless it is fully divisible by five). Each card holder can only go up one tier at a time, they cannot skip a tier. For every tier a member goes up, they will start from 0 points again and work their way up to the next tier in points, if they wish to spend their points on the next tier. NO card holder can use their credit on the card as cash value. Only one free fro-yo per card holder on applicable days. Legendary members are allowed to have only one 10% discount every year and cannot stack any other discounts or offers on top of the discount. If a Legendary member does not use their 10% discount within the year, it will expire and they will get another offer starting the following year. All benefits are subject to discontinuation, change, modification, improvement or substitution without notice and LOL Kids Club makes no representations or warranties with respect to, and accepts no responsibility or liability for, out of date or erroneous information related thereto. Discounts and other benefits available to Members may not be combined with discounts from any other discount program. LOL Kids Club annual membership fee is $25/year and is a non-refundable and payable for the member's annual subscription to LOL Kids Club Membership Program. A Member shall be entitled to all of the benefits available to Members of the LOL Kids Club for the ensuing twelve-month period under the annual plan, commencing on the date of acceptance of the Member's application for enrollment for each twelve-month period thereafter (the "Membership Term"). LOL Kids Club reserves the right, at its sole discretion, to change the terms and conditions of this Agreement at any time, with or without notice to any Member, or to cancel this Agreement. Membership discounts & offers can be changed or cancelled without prior notice.